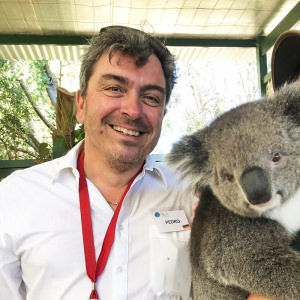 Pedro Wittwer
Owner | Director
WA NT TOURS
Our Philosophy
We want our clientele to change the usual perspective of being on tour, instead we want them to feel like they're on a road trip with friends.
Our obligation to our clients is to deliver the best value for money for their most precious holiday time.
Our Vision
Today, WA NT TOURS prides itself in being a premier travel service and tour operations company committed in making travel exciting, safe, hassle-free and convenient for its clients. We look forward to the future and envision WA NT TOURS to be the market leader in the niche of German-guided tours for small groups in Western Australia and North Territory (WA & NT).
"Travelling is an art, consisting of many styles and variations"
Western Australia is one of the world's largest wilderness areas, and since the year 2000 has been my new homeland. Its enormous diversity of nature is unimaginable. You must simply experience this yourself. Whether it is from the 'high-jumping' energy of the Australian wildlife or to the 'shy-hiding' wildflowers – the palette of Western Australia's vast-array of nature's curiosities is on full display. Even after more than 21 years of living here, I am still fascinated by the natural beauty and peculiarities which this foreign country presents.
Leading Australian tourism operators, such as WA NT TOURS, are a sustainable Tourism Accredited Business. This means these businesses have met specific criteria ensuring they are committed to exceeding your expectations with the highest standards of business practice.
We offer the most comprehensive range of English, German, Swiss German and French guided quality tours in small groups ex Perth. Our motivated team with the most comprehensive knowledge will pilot its guests in a most comfortable fleet of vehicles into all the natural attractions. In the Kimberley – the so-called last frontier – we will experience the Bungle Bungle World Heritage Area from the air, in a 4WD vehicle and by foot. We will conquer parts of the legendary Gibb River Road and will be lodging in typically Australian accommodation with high comfort and lots of flair. All our tours can be easily combined and are operated all-year round with regular departures. Consequently, according to budget and planned duration, your individualised holiday can be found in Western Australia and the Northern Territory. Book an airport-to-airport service in a safe, clean vehicle for you, your family and your friends! We do deliver the ultimate experience of the wonderland of Western Australia.
In late 2017, we expanded our vehicle fleet. In addition to two Toyota Hiace buses and one custom-built 4×4 Toyota Hiace 8-seater bus we got a Toyota Coaster 4×4. Originally, this type of vehicle is equipped with 21 seats and a two-wheeled gearbox. We have incorporated our many years of experience in the conversion of the vehicle, reduced it to 13 seats and converted into a 4×4. Great legroom and comfort are the result. In the back there is a spacious luggage compartment. In 2020, a Mitsubishi Pajero Sport 4×4 completed our fleet. We are able to let our customers experience the remotest areas of WA and the NT in very comfort vehicles.
Be touched by nature in Western Australia – see you soon!
German-speaking mother tongue guides, no communication problems
French-speaking mother tongue guides, no communication problems
Facilitates expert and competent information
Communicative and pleasant in socialising with people, individual and personal attention
Your choice on level of commentary and history provided by your dedicated guide
Live themselves in W.A., understands both Australian and European way of life
Owner actively involved in daily business
The specialist with over 21 years of experience
The West is ours: most comprehensive knowledge of tour guides
Questions, answers and information in mother tongue, therefore an abundance of information
No need to worry about left-hand driving; long distances carried out in a relaxed and safe manner. Remain feeling relaxed and fresh for attractions.
Accommodation are organised, local knowledge of tour guides
Accredited Tourism Organisation Certificate TCWA-EP-0213-0281
Knowing that you are travelling safely with a Quality Accredited touring company
Accredited Tour Operator for Kakadu World Heritage Area
$20 Mio passenger and liability insurance
Satellite telephone, 2-way-radio and First-Aid kit inclusive defibrillator
21 years of accident-free driving
Comfortable vehicles
Maximum of 12 persons
Individual and personal care and attention
Stops upon request (Photographs, toilets, etc.)
Personal interests can be taken into account
Flexible time management for breaks and sightseeing
Safe and clean vehicles and environment
Great | Small | Groups = smarTravel
Day tours tailor-made for short visits in Perth
According to budget and planned duration suitable tours in small groups are available
Most comprehensive range of scheduled German and French guided tours ex Perth
Pre- and post-tour accommodation is the clients choice
Free, cold alcohol-free drinks during tours
Information package upon arrival / extensive info material in tour vehicles
24/7 emergency assistance
Fair and honest value-for-money services
4WD vehicles with USB plug sockets (for re-charging)
Quick Question Form
We know you are busy, simply add your details here and we will get back to you ASAP to get the conversation started!